X

EMERGENCY ROOF LEAKS!

If you have an emergency, please contact us by phoning 604-946-3011. If your emergency occurs after our hours of operation, your call will be forwarded to our answering service where it will receive our prompt attention.
"Continental Roofing has proved to be a solid, dependable service provider for our portfolio of buildings here in Vancouver and Vancouver Island. As we get more and more of our buildings set up under their maintenance program we find we get less and less panic calls from surprise roof leaks. We get a high level of professionalism from dispatch right down to the crews that attend the calls. The high level of communication through the descriptive reports along with pictures provides an understanding of the roof issue and subsequent repair, therefore making it easy to explain to Landlords and tenants. We would recommend Continental Roofing for any repair, maintenance program, or roof replacement project that you have now or in the future."

Wayne Lee Gulf Pacific Property Management Ltd.
Protect your Roof!
To help prevent emergency leaks, extend the life and improve the aesthetics of your low slope metal roofs, we can fully coat and detail roof penetrations with a strong yet flexible membrane that boasts long-term ultraviolet protection. Please contact us for more information.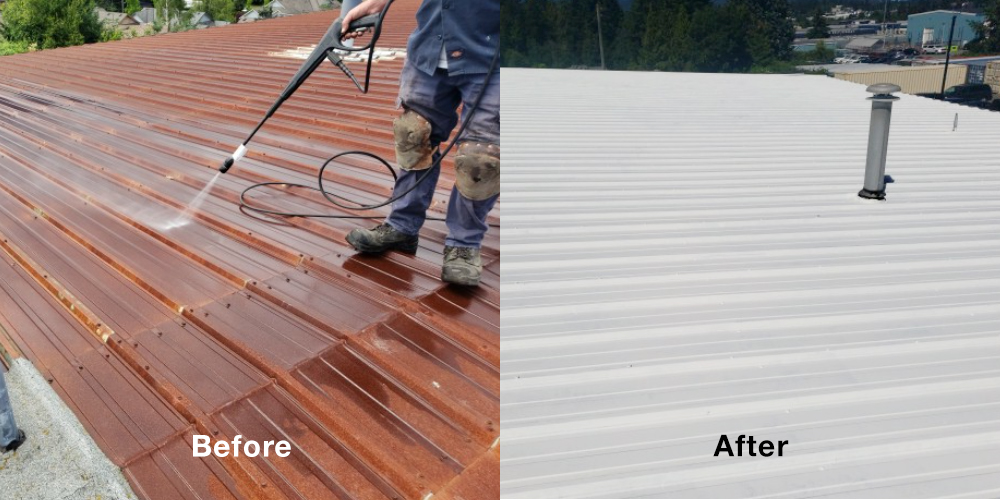 ---
Our brief Preventative Roof Maintenance video is ready! Please click the following link to see the work we provide during our regular roof inspections and why: Click here to view the video


Preventive Roof Maintenance
"An ounce of prevention is worth a pound of cure?"
The fact is, more than 80% of commercial roofs are replaced prematurely, due in part to a failure to follow a regular maintenance schedule. The good news is, a proactively-maintained roof has the potential to outlast its warranty. According to Roofing Contractor Magazine, a roofing system with proactive maintenance can have an average roof life of 21 years compared to 13 years with a reactive maintenance program, depending on the roofing system and building type.
Continental currently provides Preventive Roof Maintenance and Roof Repairs to over 1,000 properties on the lower mainland and Vancouver Island. Roof maintenance inspections are offered on a quarterly, semi-annual or annual basis.
The inspections include detailed roof assessments, minor remedial work to roofs and flashings and clearing of drain openings. Comprehensive roof reports are provided with quotations for more extensive future repairs if they are necessary. The roof reports include photos and descriptions of any work completed at the time of inspection. If requested, we can provide a budget price for roof replacement.
Our fourteen professional, trained maintenance and repair crews are each comprised of a skilled foreman and an apprentice. Over the years qualified apprentices become foremen as we increase our work force to meet our customer's needs.
Repair service calls are coordinated with you or your tenant. Continental's uniformed crews arrive on your's or your tenant's site in a signed company truck. They will have work orders and identification in hand. Our visit will be followed up by phone call or email to the tenant to verify the roof leak has stopped. A detailed, computer-generated report will be sent to you as the owner or owner's representative.