X

EMERGENCY ROOF LEAKS!

If you have an emergency, please contact us by phoning 604-946-3011. If your emergency occurs after our hours of operation, your call will be forwarded to our answering service where it will receive our prompt attention.
"Continental Roofing has proved to be a solid, dependable service provider for our portfolio of buildings here in Vancouver and Vancouver Island. As we get more and more of our buildings set up under their maintenance program we find we get less and less panic calls from surprise roof leaks. We get a high level of professionalism from dispatch right down to the crews that attend the calls. The high level of communication through the descriptive reports along with pictures provides an understanding of the roof issue and subsequent repair, therefore making it easy to explain to Landlords and tenants. We would recommend Continental Roofing for any repair, maintenance program, or roof replacement project that you have now or in the future."

Wayne Lee Gulf Pacific Property Management Ltd.
---
Health and Safety
NEW! Roof hatch safety bars available
While roof access hatches offer a safer access point to a roof, there are extra precautions that can be taken to make access even safer. Continental Roofing is now installing Roof Hatch Safety Bars to roof hatches. These safety bars give an additional handle to grasp while accessing and/or egressing the roof. Installation is quick and inexpensive and provide added safety to building staff an trades. Please contact us for more information.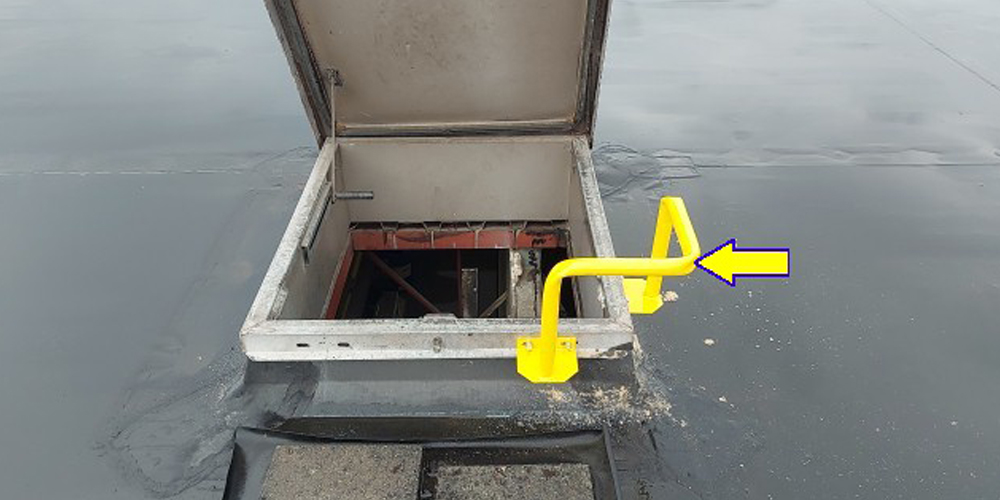 ---

PLEASE READ OUR COVID SAFETY PROTOCOLS FOR VISITORS AND EMPLOYEES


ATTENTION ALL VISITORS TO OUR OFFICE
Continental Roofing is taking all steps possible to avoid the transmission of the COVID virus.
Please follow the protocol we have set out for our customers and our employees.

1. Hand sanitizer is available at the front door of our offices. Please utilize hand sanitizer before coming into our reception area.

2. If you are here to see our estimators or our owners, please wait at reception until you are escorted to the meeting room.

3. If you are here to drop off mail or any other items, please leave them outside of the front door and call reception at 604-946-3011, and we will have someone pick up the item.

4. All outside visitors should have an appointment, no cold calls please.
PROTOCOL FOR OUR OFFICE STAFF
1. All office staff are asked to enter through the front door only.

2. Hand sanitizer is available at the front door of our offices, please utilize hand sanitizer before entering the reception area.

3. All employees are to proceed to their office or desk.

4. Washrooms are open to employees only and must be wiped down after each use. This includes toilet seats, sinks, doorknobs, and paper towel dispensers.

5. The kitchen is open to employees, but we will limit the amount of people in the kitchen at one time to one employee. Please ensure you wipe down all surfaces that you touch in the kitchen.
PLEASE REMEMBER: SOCIAL DISTANCING IS THE BEST OPTION FOR ALL OUR EMPLOYEES. PLEASE ENSURE YOU ARE STAYING SIX FEET AWAY FROM OTHERS.
Thank you,
Management
---

COVID SAFETY PROTOCOLS FOR OUR EMPLOYEES IN THE FIELD
Continental Roofing is following all government recommendations and orders concerning the COVID pandemic. Any employee who believes they have been in contact with someone who tested positive, or if they themselves felt symptoms, has been temporarily laid off and been advised to apply for EI/CERB.

All employees who have been laid off, and have returned to work, have gone through the 14 day quarantine and have not reported further symptoms.

The following rules will be applied to our Repair and Maintenance crews and all our large crews:
1. All Continental Roofing employees will advise the property manager or maintenance contact that they will be attending their property, and will discuss roof access options.

2. We will do our best to attend all roofing needs, if we are able to set up a ladder. Ladder set up must be done to WSBC regulation.

3. If ladder access is prohibited due to height, our workers will require hatch or walk out access.

4. Maintenance personnel must be aware that our workers will require interior access. If interior access is denied, due to COVID concerns, we will not be able to attend to the building.

5. Continental Roofing employees have been supplied with nitrile gloves and hand sanitizer. Hand sanitizer is to be used before entering and after leaving the building.

6. Our employees will respect social distancing protocol and will not involve any other employee in our work. All public areas will be corded off so that the public cannot enter our work area.
Continental Roofing's services have not been adjusted on the frequency or timing of service to you. We are conducting business as usual, as long as the above mentioned items can be done safely.
If you have any questions or concerns regarding our procedures, please feel free to contact me directly at the number or email below.
Kelly Cudney
, NCSO
604-841-6853
Email:
safety@continentalroofing.com
---
Certificate of Recognition Program (COR)
Continental Roofing has achieved the Certificate of Recognition Program rating each year since 2005. The COR program is an employer incentive program developed by WorkSafeBC that assists employers to develop effective health and safety systems. The result has been a significant reduction in work place injuries and an exceptional WorkSafe BC experience rating.
Company Safety Program
With the assistance of our Company Safety Officer we have developed and implemented a comprehensive safety program which includes:

Company Health and Safety Policy
Workplace Hazard Assessment and Control
Safe Work Practices
Safe Job Procedures
Company Rules
Personal Protective Equipment
Preventative Maintenance
Training and Communication
Inspections
Investigations and Reporting
Emergency Preparedness
Records and Statistics
Legislation
Joint Health and Safety Council
---